If you have never heard of or never watched The Faithful Traveler on EWTN, than you are missing out. In Season One, host Diana von Glahn takes viewers to some of the most beautiful and significant churches and shrines in the United States. Each episode is more than just a cursory glance at the site. Diana takes her role as tour guide in these episodes seriously as she packs each 30 minute show full of facts and sites from each location.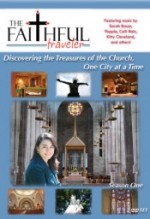 Season One consists of two discs and includes stops at the National Shrine of St. Rita of Cascia, the National Shrine of St. Katherine Drexel, the National Shrine of Elizabeth Ann Seton, the Miraculous Medal Shrine and Old St. Patrick's Cathedral. I may be repeating myself but it bears mentioning again. I thoroughly enjoyed the information Diana presented at each site. Her presentation really draws you into the beauty and history of each shrine/church giving a complete experience. Not only does she give you the facts, she reflects her faith as well. Diana is just as amazed and awe struck at the beauty of these sites as the viewer is.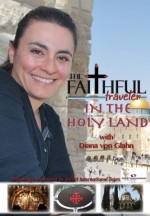 Also available is a two disc set covering Diana's trip to the Holy Land. If you thought the shrines in the United States were incredible wait until Diana takes you to the Holy Land. All the familiar places are visited including Mount Carmel, the Western Wall, the Garden of Gethsemane, the Sea of Galilee and the Holy Sepulchre. As we learned in Season One, what would a DVD with The Faithful Traveler be without stops at churches? Holy Land churches visited include the Church of the Nativity, The Church of St. John the Baptist, the Church of St. Catherine and the Church of Pater Noster to name a few.
From the cover jackets: "Diana explains the meaning behind the art, architecture, history, tradition and dogma of each location, giving you the tools you need to make your own pilgrimage, or enabling you to make a virtual pilgrimage from the comforts of your own home." Diana von Glahn has done us all a service by bringing these places into our homes. Many of us will likely never get the opportunity to visit many of the pilgrimage sites from Season One let alone an all encompassing trip to the Holy Land. Diana has done the work for us and now, best of all, we can visit all these wonderful sites from our easy chairs.
________________________________________________________________________________________________
I received a copy of these DVDs for this review from the host, Diana von Glahn.
To learn more about Diana von Glahn's work, visit The Faithful Traveler website.