Welcome back to this recurring feature at The Catholic Book Blogger. As a book reviewer I get access to early or hot off the presses books from many Catholic publishers. My goal is to share a few titles each post that have either just released or are soon to be released. These are books I am looking forward to reading and think you might be too.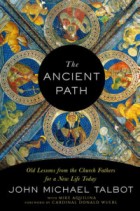 The Ancient Path: Old Lessons from the Church Fathers for a New Life Today by John Michael Talbot with Mike Aquilina
Release Date: January 22, 2015
From the Publisher Image Books:
The bestselling author of The Lessons of St. Francis offers practical insight into how the early Church Fathers can offer guidance and inspiration in our modern lives.
In the 1970s, John Michael Talbot was new to the Christian faith and developed a habit of looking to the Church Fathers, including St. Ambrose, St. Jerome, St. Augustine and Gregory the Great for guidance. This book tells the story of how these men helped Talbot through spiritual and professional challenges throughout his life, and how these ancient Christians are relevant to the lives of modern believers today.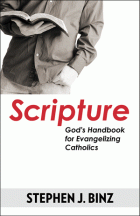 Scripture: God's Handbook for Evangelizing Catholics by Stephen Binz
Release Date: Available Now
From the Publisher Our Sunday Visitor:
If you believe in the transformative power of Scripture in your life, imagine what it can do for others around you!
Scripture scholar Stephen Binz has spent the past 30 years working to help Catholics with the "frequent reading" of Scripture through the ancient movements of lectio divina — listening, meditating, praying, contemplating the Word and witnessing to it. That means reading the Bible fully expecting the Holy Spirit to illuminate the passage we read.
Now in Scripture-God's Handbook for Evangelizing Catholics he brings to light the power of scripture to not only renew our lives, but make us living witnesses of the Gospel. Inspired and influenced by Pope John Paul II, Pope Benedict XVI, and Pope Francis, Binz shows us the indissoluble connection between their call to New Evangelization and its necessary connection to the Word of God.
Every chapter brings you closer to Christ and closer to His Word as you:
Grasp the importance of recovering the evangelical dimension of Catholicism
Discover the "hero evangelizers" in Scripture and history
Learn to read the Bible as an evangelizing Catholic
Understand the key link between lectio divina and the New Evangelizatiion
Identify the obstacles to hearing and witnessing to God's Word today
Understand the role of Mary, the Star of the New Evangelization
Through Stephen's approachable but thorough coverage of the topic, you'll be prepared to share with the world your joy in the Lord!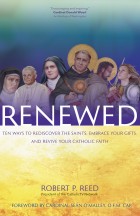 Renewed: Ten Ways to Rediscover the Saints, Embrace Your Gifts, and Revive Your Catholic Faith by Fr. Robert P. Reed
Release Date: Available Now
From the Publisher Ave Maria Press:
In Renewed: Ten Ways to Rediscover the Saints, Embrace Your Gifts, and Revive Your Catholic Faith, Fr. Robert Reed—popular on-air host and president of the CatholicTV Network—issues a creative call to all Catholics to renew the Church by rediscovering the gifts of their faith. Reed profiles ten surprising pairs of saints who offer lessons in reviving faith, starting at the personal level and radiating outward to the wider Church.
Fr. Robert Reed, of the Archdiocese of Boston, believes that the best remedy for discouraged Catholics is a reclaimed sense of the tradition's riches as embodied in the lives of the saints. In this passionate call to renewal, he profiles twenty saints who, like Catholics today, lived in times of crises when the way forward was unclear. Reed creatively pairs saints who at first glance seem to be unlikely companions—Augustine and Joan of Arc, Athanasius and Mother Teresa—to suggest ways readers can begin the work of personal renewal that is essential for Church-wide change. In a down-to-earth and encouraging tone, Reed provides ten persuasive and practical lessons such as "Discover and Receive Your Gifts," "Look beyond the Present Troubles" and "Live with a True Spirit of Joy." Renewed is a practical plan for the revitalization of the Church that maps out steps for a grassroots awakening that every Catholic can undertake today.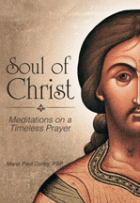 Soul of Christ: Meditations on a Timeless Prayer by Sister Marie Paul Curley, FSP
Release Date: Available Now
From the Publisher Pauline Books and Media:
The Anima Christi, or Soul of Christ, has been prayed by Christians since the fourteenth century. Commonly prayed after receiving the Blessed Sacrament, it has a rich history and an abundance of meaning. Sister Marie Paul Curley, FSP, delves into both as she reflects on the prayer, the Eucharistic imagery within, and its application for every Catholic.
Every line of the prayer is full of import and meaning. Sister Marie Paul reflects on each line of the prayer in individual chapters, helping you to search deeper within the simple words. Each chapter contains a section that could be used as a guided holy hour for an individual or a group, or just read as further reflection.
With practical applications, thoughtful meditations, and centuries' worth of tradition, Soul of Christ: Meditations on a Timeless Prayer is designed to bring you closer to Christ. Explore the richness of this ancient treasure of the Catholic Church, and join the communion of saints in praising the Body, Blood, Soul, and Divinity of Christ through the Anima Christi.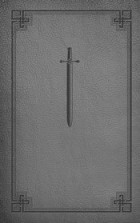 Manual for Spiritual Warfare by Paul Thigpen
Release Date: Available Now
From the Publisher Tan Books:
Like it or not, you are at war. You face a powerful enemy out to destroy you. You live on the battlefield, so you can't escape the conflict.
It's a spiritual war with crucial consequences in your everyday life and its outcome will determine your eternal destiny.
You must engage the Enemy. And as you fight, you need a Manual for Spiritual Warfare.
This guide for spiritual warriors will help you recognize, resist, and overcome the Devil's attacks. Part One, "Preparing for Battle," answers these critical questions:
– Who is Satan, and what powers does he have?
– What are his typical strategies?
– Who fights him alongside us in battle?
– What spiritual weapons and armor do we possess?
– How do we keep the Enemy out of our camp?
Part Two, "Aids in Battle," provides you these essential resources:
– Teaching about spiritual warfare from Scripture and Church documents
– Scripture verses for battle
– Wisdom and inspiration from saints who fought Satan
– Prayers for protection, deliverance, and victory
– Rosary meditations, hymns, and other devotions for spiritual combat
St. Paul urges us to "fight the good fight of the faith" (1 Tim 6:12). Take this Manual for Spiritual Warfare with you into battle.
Premium Ultrasoft with two-tone sewn binding, ribbon marker and gold edges.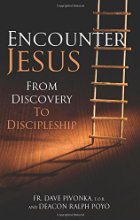 Encounter Jesus: From Discovery to Discipleship by Fr. Dave Pivonka and Deacon Ralph Poyo
Release Date: Available Now
From the Publisher Servant Books:
"God really is real! I never experienced him before now."
"I felt like there had to be something more—I think I've found it!"
"God doesn't just love everyone—he loves me!"
It's exciting when someone has a living encounter with the God of the universe. A lightbulb goes on, and everything feels new. But with that sense of exhilaration comes the realization: in order to take one's faith seriously, things must change.
"What do I do now?"
"How can I keep this alive?"
The authors of Encounter Jesus believe that what's really being asked is: "Now that I've discovered Jesus, how do I become his disciple? What do I have to do to continue to encounter him?" An encounter with Jesus is a very significant experience, and Fr. Dave and Deacon Ralph show readers how to move from discovering their faith to following Jesus wherever he leads them along the path of discipleship.