Today I interview Diane von Glahn. Learn more about the show here.
PETE: How did you come up with the concept for The Faithful Traveler?
DIANA VON GLAHN: Eleven years ago, my husband David and I were planning our honeymoon to Paris and the Loire Valley. Around that time, we had been watching a lot of the Travel Channel, and we noticed that while the shows sometimes visited Catholic sites, they usually spoke of them with a lack of understanding. We thought it'd be great if there was a travel show that looked good enough for the Travel Channel, but that covered Catholic locations with respect and faith, and we joked about creating it ourselves. We even pretended to be doing so while on our honeymoon, as we visited places like the Miraculous Medal Shrine on the Rue de Bac and the amazing basilica of Sacre Coeur. When we came home, we thought, "Let's try it!" So, we bought all the equipment we could afford and taught ourselves the craft of television production.
Our goal in creating The Faithful Traveler was to inspire, entertain, and teach, but to do so in a way that rivaled many of the secular television programs currently on TV. While secular TV was rife with many slick productions, most of them presented atrocious untruths about our faith, and while Catholic networks presented truthful programs, they lacked high production values, usually presenting a panel of people sitting in a room talking. Neither of those programs appealed to us, so we set out to create something that entertained and inspired while presenting the amazing majesty of the history and tradition of the Catholic Church.
PETE: How much research goes into choosing the sites for each episode and then learning about them to present during each?
DIANA VON GLAHN: Not much. A lot of it is happenstance. Of course, the majority of the research comes after the sites have been chosen.
For the first season of The Faithful Traveler, we funded the production ourselves, so we stuck close to home to keep our expenses low. We visited 15 sacred and historic sites locations in The Faithful Traveler in the US: East Coast Shrines,(watch the series online or buy the DVD) in Pennsylvania, New Jersey, New York, and Maryland. I chose the sites based on location and historic significance, and once I chose the sites, I read as much as I could about them, by buying books online or when I visited their gift shops. While a theme was unplanned by me, as luck would have it—or, I should say, as planned by my Executive Producer, the Holy Spirit—the first series focuses on how the Catholic Church gained footing and grew here in the early United States.
Our second series, The Faithful Traveler in the Holy Land, (watch the series online or buy the DVD) happened by invitation. Select International Tours had just been asked to plan a pilgrimage to the Holy Land for the Archdiocese of Philadelphia, and they wanted someone to film the trip. We worked out a sponsorship with them, making the second series possible. But it was completely unplanned. Once we knew we were going, I read as much as I could beforehand, and read the Gospels a lot. Then, when I got home, I read more and more as I wrote the scripts.
Our third series, which will be a special production based on the Holy Father's recent pilgrimage to the Holy Land, was again by invitation—this time by the Israel Ministry of Tourism. They and the Jordan Tourism Office sponsored our trip. This time, my research is focusing on the historic visits by Popes to the Holy Land. I'm doing a lot of research on that, as well as learning about the Church's history with the Greek Orthodox Church, which was the purpose behind our Holy Father's visit.
Our fourth series, The Faithful Traveler in Portugal, which we hope to release this Spring, was also by invitation—this time by a hotelier in Fatima, the various tourist offices in Portugal, and a variety of travel-related sponsorships. I've grown up with the story of Fatima, so I have to do very little research on that! But I never knew how many UNESCO sites are Catholic in Portugal! We visited some amazing places, all of which were new to me. When we were there, I bought books, and am now focusing on reading them and writing the scripts. Once the scripts are written, it's just a matter of adding footage to illustrate the script, and the show comes together rather quickly.
PETE: Are there plans for further travels and season of The Faithful Traveler?
DIANA VON GLAHN: I currently do not know what is in our future, but I think it's fair to say that the Holy Spirit is guiding our way, and I trust to see where he wants us to go next. There are a few projects I'd like to do and I've thrown out a few feelers for possible places to film in 2015, but nothing is certain.
Right now, I'm focusing on producing our special on the Holy Father's pilgrimage to the Holy Land, which I hope to release soon, and our series on Portugal. I'm also working on a few videos for the upcoming World Meeting of Families.
In order to do anything, we need funding. After our first series, there was a great clamor for more episodes, which was great, but producing a travel series for television is not inexpensive. While we were able to fund our first series by maintaining full-time jobs (which we still have), any further series would require more time and expenses for hotel and airfare, etc. We've been blessed to have sponsors cover our travel expenses, but there are still many expenses we have to cover ourselves. We're trying to find ways to produce The Faithful Traveler full-time, but so far a solution has evaded us. If any of your readers would like to help, they can buy our DVDs or donate on our website, or contact me if they would like to propose a sponsorship. We are open to see what Our Lord wants of us.
PETE: You are currently featuring tours of Philadelphia in advance of Pope Francis' visit in 2015. Would you like to share some details of that with my readers?
DIANA VON GLAHN: I've lived in the Philadelphia suburbs for the past 12 years, and have learned much about the Archdiocese's history and beautiful churches. I'm very excited about the world discovering our sacred and historic sites, and I hope to do what I can to help people learn as much as they can about them. In our first series, we visited four of the five local shrines—the Miraculous Medal Shrine and the National Shrines of St Rita of Cascia, St John Nepomucene Neumann, and St Katharine Drexel (click the links to watch the episodes online or you can buy our DVD here). We left out the magnificent National Shrine of Our Lady of Czestochowa. As the World Meeting of Families approaches, I am working with a local producer, Sam Katz, who produces documentaries about Philadelphia, including a documentary about the history of Catholicism in Philadelphia called Urban Trinity: The Story of Catholic Philadelphia, to produce a series of short webisodes about the many Catholic sites here in the city. These will be available on my website, as well as a few other places online and on television.
Once the World Meeting of Families comes to Philadelphia, I show visitors our local shrines and historic churches through a series of tours I am organizing with Select International Tours. My website provides all of the informationhere. I'm very excited and hope people join us. It's going to be a lot of fun!
PETE: I would be remiss if I did not ask this. Though you work with visual media this is a blog about books. What is currently on your bookshelf to read?
DIANA VON GLAHN: I have a whole stack of books about Portugal that I'm reading… I'll include a photo so you can see.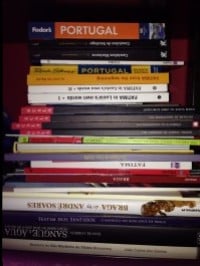 It's not often I get to read anything that is not related to the work I am doing with The Faithful Traveler, but I'm not complaining! I love learning about all of these amazing sites that we are blessed to visit and the stories they tell.
That said, there is a small stack of books next to my bed, which I read when I can. They include: