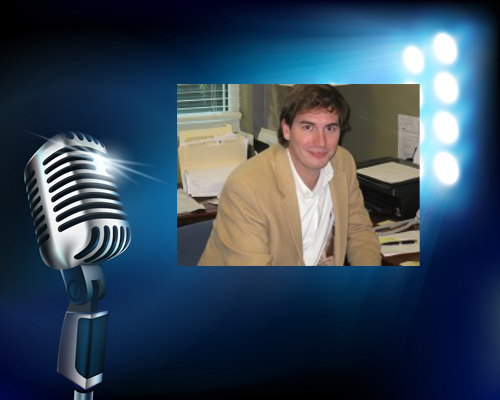 Brian Kennelly was born and raised in Charlotte, NC. He grew up in a devout Catholic family with his parents, Kevin and Aleanne, and his older brother Kevin Jr. He graduated from Clemson University in 2005 and currently lives in Charleston, SC with his wife, Tina, their son, Connor and their daughter, Magdalene.
______________________________________________________________________________
This week I interview Brian about the excellent book on salvation history he co-authored with Father Jeffry Kirby, Doors of Mercy. Read my review of the book here.
PETE: Doors of Mercy: A Journey Through Salvation History
 is an incredible book that I am recommending everyone read as an approachable book on salvation history. For those who have not read the book, what is the connection between salvation history and mercy.
BRIAN KENNELLY: The story of salvation history has everything to do with God's mercy, but we have become so familiar with the story we tend to gloss over the mercy part. It's like telling the story of a great basketball game… you wouldn't tell your listeners about the game and talk to them about the ball being dribbled. You would jump right in to the exciting details of each shot and play.  You would take the dribbling of the ball for granted and forget to mention it, but without dribbling you wouldn't have a game at all. In salvation history, we get so caught up with all the stories we fail to notice how God's mercy made it all possible—it was like dribbling in a basketball game, which moves the game forward and makes the game possible. Each time we failed Him, He showered mercy down upon us and moved His plan forward. Adam and Eve ate the apple, but then God gave the promise of the Savior to come. We are so familiar with the story at this point we take for granted that God promised (and delivered) the Savior. He didn't have to do that, but His mercy made it possible for us to rise from the ashes of the Fall. With each of the Old Testament covenants—with Noah, Abraham, Moses, etc…—we see this pattern repeating itself. God gives us a blessing, we mess it up, and despite our faults He shows us mercy and moves His divine plan forward. I like to think of God's plan for our salvation as a body, with mercy being the blood of the body.
PETE: The thread of mercy woven through the history of God's people was very evident in this book. How can people apply this to their own lives?
BRIAN KENNELLY: The main thing for people to take from this book hopefully is that God's mercy knows no bounds. Each of us can feel like we have committed the mother of all sins. We have all made horrible mistakes. But to doubt His mercy and compassion is to show a lack of faith. We need to look at these stories from Scripture and see them as proof of His love. Look at David, for example, who was the apple of God's eye, and yet he committed a grievous sin against his purity with Bathsheba, and then ultimately had her husband killed. And yet, David is still held up as one of the hero's of the Old Testament. David is so revered only because he repented of what He had done, and trusted in God's mercy. Few of us have committed sins as bad as what David did, so we must look at his life as an example of God's forgiving power. We must plead for forgiveness in the sacrament of confession and move on with our lives, vowing to sin no more and spread goodness throughout the world.
PETE: How important for the laity is this year of mercy?
BRIAN KENNELLY: When I first heard about the Year of Mercy, I thought it was great, but at the same time I wasn't sure what sort of tangible difference this would make in my life, or anyone else's for that matter. It seemed kind of nebulous and arbitrary.  But once the Jubilee Year began, small things started happening. I read an article about confession and realized I hadn't been in a few months. The next Saturday I went. I heard a homily about reaching out to those who had left the Church, and had a difficult conversation with a friend not long after that. I found my copy of St. Faustina's Diary and started reading it again. I read some words from Pope Francis about mercy and started to curb some of my bitterness toward all those people in the world who are indifferent or even hostile to the Catholic Church—I realized my prayers for them will serve them far better than any cynical feelings I might have toward them. I still would have trouble putting into words what the Jubilee Year of Mercy is if a non-Catholic friend asked me. It's hard when there is really nothing tangible about it. But this is the beauty of the Holy Spirit working through the Church. We don't always understand what the point of something is, but if we trust in Holy Mother Church, she finds a way to influence our lives, often without us even realizing it.
PETE: This book is a companion to the parish program Saint Benedict Press created called Doors of Mercy: Exploring God's Covenant with You. Can you give readers an introduction to the program?
BRIAN KENNELLY: Yes, this was a program first. It is an 8-part series hosted by Fr. Jeffrey Kirby, along with other contributors like Paul Thigpen and Joseph Pearce. The program is not meant to be a very deep scriptural study, but rather a whirlwind tour of salvation history told in a very theatrical way. If someone wants a rich study of scripture, they should look to one of our Catholic Scripture Study courses.  Doors of Mercy is more reflective in nature, meaning that it presents you with the story of salvation history in an accessible and easy way, and then uses the story to help you turn inward and think about your own life. It will challenge you to see where you might be able to be more merciful in your life. I have to admit that I am not really a "group study" kind of person, especially where I am supposed to talk about my feelings and struggles. But we did a demo course in the office to see how it would play out, and I found myself reflecting on things I wasn't even aware of. The course found a way to bring out some things that were brewing beneath the surface.  I hope it can do that for other people as well. But the book Fr. Kirby and I wrote also covers the same material and can hopefully have the same affect. We wanted to do both the book and the program to ensure all sorts of people could have access to it.  Not everyone has the time, or even wants to do a group study at their parish, and we understand that. By offering both, we hopefully have everyone covered.
PETE: Time for my signature ending question. This is a blog about books. What is currently on your bookshelf to read?
BRIAN KENNELLY: With me, I am always reading about five things at once. But right now I am reading two very deep works, so they are taking all my focus. As I mentioned above, I am reading Faustina's Diary. My goal is to finish it before the Year of Mercy ends. I got some work to do there. The other book I am reading is The Dialogue of St. Catherine of Sienna. For whatever reason, she has been popping up in my life a lot lately, so I opened her most famous book. It is simply remarkable.