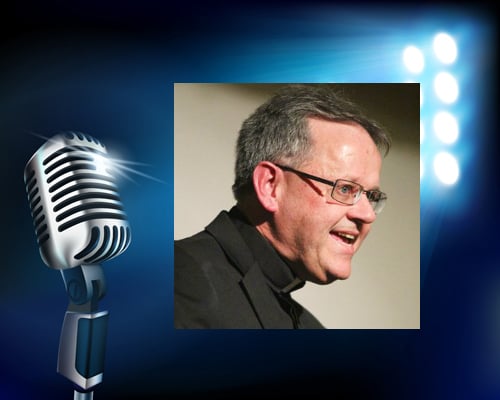 Fr. Dailey joined the faculty of DeSales University in 1988 and is a tenured Professor of Theology. Appointed in 2008 as the first Fr. Louis Brisson Chair in Salesian Spirituality, he is the senior ranking faculty member at the university. In 2000, he founded the Salesian Center for Faith and Culture, which he continues to direct. During his sabbatical in 2013-2014, he served as the inaugural John Cardinal Foley Chair in Homiletics & Social Communications at Saint Charles Borromeo Seminary in Philadelphia.
He holds a doctoral degree in sacred theology (S.T.D.) from the Pontifical Gregorian University (Rome), where he completed his dissertation on the biblical Book of Job. He has lectured worldwide on topics in biblical theology, Salesian spirituality, and Catholic higher education.  Recently he wrote Live Today Well:  St. Francis de Sales's Simple Approach to Holiness.
Fr. Dailey currently serves on the board of directors of the Miracle League of the Lehigh Valley, and on the board of trustees of Holy Ghost Preparatory School (Bensalem, PA).  He is a member of the editorial board of the Indian Journal of Spirituality (Bangalore) and serves as a peer reviewer for the Journal of Catholic Higher Education.
In 2013 Fr. Dailey was elected to the Academy of Catholic Theology.  Among other awards, he has been nominated twice for inclusion in Who's Who Among Executives and Professionals, and has been selected four times for inclusion in the list of Who's Who Among America's Teachers.
Fr. Dailey entered the religious congregation of the Oblates of St. Francis de Sales (O.S.F.S.) in 1980, was ordained to the diaconate in St. Peter's Basilica (Rome) in 1986, and was ordained to the priesthood in St. Anthony of Padua Church (Wilmington, DE) in 1987.
Recently Michele interviewed Father about his book Live Today Well: St. Francis de Sales's Simple Approach to Holiness
. You can read Michele's review of the book here.
MICHELE:  This book is literally an answer to my prayer.  I had been asking other authors how they "pray without ceasing", and received some beautiful answers, but you, Fr. Thomas have provided an entire book on the subject- Thank you!  What led you to become an Oblate of St. Francis de Sales?
THOMAS F. DAILEY: While at the time, in high school, I knew nothing about St. Francis de Sales (!), I did know that the Oblates of St. Francis de Sales were teachers. I was convinced that God was calling me to the priesthood and to be a teacher. When I saw who the Oblates were and what they did, I had the sense that it was with them that I should be.
MICHELE: I am drawn to the Jesuits, (so much so that I am making an 8-Day Directed Retreat on Ignatian Spirituality at Loyola on the Potomac in July), so I was very excited to learn that St. Francis de Sales was a Jesuit!  I appreciate his flowering of the Jesuit vine into Salesian Spirituality.  To me, Salesian Spirituality somehow seems to be a simpler, softer, gentler approach to relationship with Jesus (and with everyone in all relationships).  Would you comment on this please?
THOMAS F. DAILEY: Actually, Francis de Sales was NOT a Jesuit! He was educated by Jesuits at the Clermont College of the University of Paris, and later at the University of Padua. Thus, he was keenly aware of and influenced by Ignatian spirituality.  But Francis de Sales came to see the world in a different light, one that emphasizes humility and gentleness.  His understanding of God focuses more on the love God bears toward his creatures than on our giving glory to God ("ad maiorum Dei gloriam" of the Jesuits).  His understanding of human beings is, as a result, quite optimistic, in keeping with the Renaissance humanism of his day while being decidedly Catholic (so, for example, our hopefulness in life is not based on our ability but on God's mercy).  His asceticism is more "affective" (following the Spirit in one's heart) than "prescriptive" (focused on method), while still being quite practical and centered on living out the virtues in and through one's state-in-life.
MICHELE: As I was reading Live Today Well I jumped to the back of the book to read about you, Fr. Thomas, and I was thrilled to see that you are so close to my home.  I immediately checked out Salesian retreats or workshops offered at De Sales, because I have dedicated this Jubilee Year of Divine Mercy as sort of a sabbatical for myself- making more retreats than usual, visiting more retreat houses, shrines and sacred places.  Would you please take time to discuss the offerings (for lay persons like myself) on Salesian Spirituality available at De Sales?
THOMAS F. DAILEY: At DeSales University, we offer a wide variety of programs and activities associated with Salesian spirituality. Naturally, there are academic courses anyone can take (a thematic survey or a focused study of the Introduction to the Devout Life). We have a week of programming each January dedicated to our Salesian Heritage, where we link St. Francis de Sales's life and legacy to areas/issues in contemporary life.  We also have a program of personal enrichment courses that we offer completely online.  While we also offer many spiritual activities (Mass, retreats, pilgrimages), these tend to be focused on the student body on campus.  Many times, though, we speak at parish missions, local retreats, or other places where folks can learn more about the Salesian tradition.
MICHELE: Would you care to recommend any other particular sites to visit, places to make a retreat, or courses of study for someone (me) interested in digging deeper into Salesian Spirituality?  (Although, I may first need a few days of silence to re-read your book and begin applying it to my life! LOL!)
THOMAS F. DAILEY: Other than what I mentioned before (#3) in terms of the courses we offer, there's plenty to visit "online"! We have lots of resources in our electronic library and through our Salesian studies. Our site is:  www.desales.edu/salesian
If you're willing and able to cross an ocean, THE site to see is Annecy, France — where all things Salesian can be found … even the saint, himself!
MICHELE: Time for our signature ending question. This is a blog about books. What books are currently on your bookshelf to read?
THOMAS F. DAILEY: Well, it's an odd collection, but at present I'm in the midst of reading …
an old book by Francis Vincent about the distinctive Salesian contribution to spirituality called Saint François de Sales, directeur d'âmes: l'education de la volonté (St. Francis de Sales, Director of Souls: The Education of the Will)
a collection of thoughts from Jorge Mario Bergoglio/Pope Francis on the subject of mercy called La Misericordia È una Carezza:  Vivere il giubileo nella realtà di ogni giorno (Mercy Is a Hug:  Living the Jubilee in the Reality of Every Day)
a book on leadership that we've adapted for university students called Play to Win: Choosing Growth over Fear in Work and Life, by Larry Wilson
and, since its summer time, a new book on baseball with the title I'm Fascinated by Sacrifice Flies: Inside the Game We All Love, by Tim Kurkjian
I won't dare let on what order of importance I would give to this list!