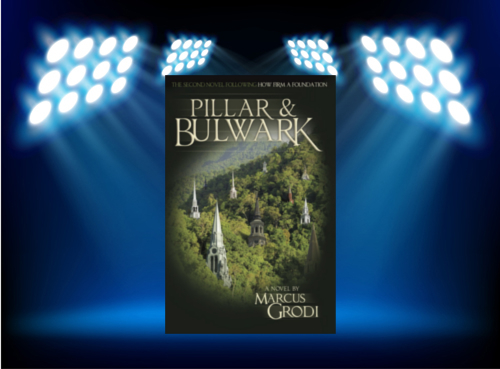 Review by Michele Craig
"I do believe that Christ is calling all of His children home to the Church, but I also believe He does this according to His own schedule, His own timetable.  Conversion is always a work of grace, in which God opens our hearts and minds to His truth;  it is not merely an intellectual awakening to new information."  So says one of the main characters, Father Bourque, in Marcus Grodi's novel Pillar & Bulwark
.
Pillar & Bulwark
is the second novel by Marcus Grodi, following How Firm A Foundation.  I have not read his first novel (yet), but I can hardly wait, if it is anything like this novel… I could not put it down, literally… I read it in a few days!  Marcus weaves Holy Scripture and Catholic Theology through the telling of an exciting story whose characters are at different points of conversion to the Faith- the True Faith, the Catholic Faith, the Catholic Church.
Throughout the story I found many of the conversations that I have also had concerning my faith and God's Will for me, such as "Head in hands, he (Stephen, another character in the novel) thought, 'Trust in the Lord with all thine heart, and do not rely on your own insight.' Lord Jesus, for years I've tried to live by this verse; I'm here alone in this godforsaken 'winter wonderland' precisely because I believed I was not leaning on my own insight but following Your will, trusting You.  But how can I know for certain whether I'm following Your will or just following my own and signing Your name to it?  And to what extent am I just being led along by the Evil One?  How can I know when not to trust myself, my conscience?"
 For me, hearing the Catechism in the form of a dialogue between characters was a refreshing review as well as offering extra insights.  Here is a snippet of Father Bourque taking to Scott, the narrator of the story as Father wraps up a long evening of discussion:  "Forgive me if I get a bit obtuse in my desire to be quick," he continued.  "Every aspect of the Old Testament People of God-of which anyone wanting to be right with God had to be a member-was fulfilled in the Church that Jesus built on Simon Peter and the apostles.  The old covenant became the New Covenant; the old sign of circumcision was replaced by the new covenantal sign of baptism; the commandments of the law were consolidated, summarized, and reemphasized in Christ's commandment to 'love one another as I have loved you;' the traditions of the Jewish people and their Scriptures were fulfilled, expanded, compiled, and passed down through the Church as Sacred Tradition and Sacred Scripture; the hierarchy of the Jewish people, who had guided them and told them how to live out their obedience, was fulfilled and carried on through Christ's hand picked apostles, who in turn chose and appointed others, all the way down to our bishops today through apostolic succession; and the old rituals, as represented by the temple sacrifices, synagogue worship, and festivals were fulfilled and carried on through the Divine Liturgies and the sacrifice of the Mass, and especially the Eucharist."  That is an entire Catechism class in one paragraph!
Which leads me to the title….if you do not know what Pillar & Bulwark is referring to, you'll just have to read the book!  If you love Catholicism you will love this novel!