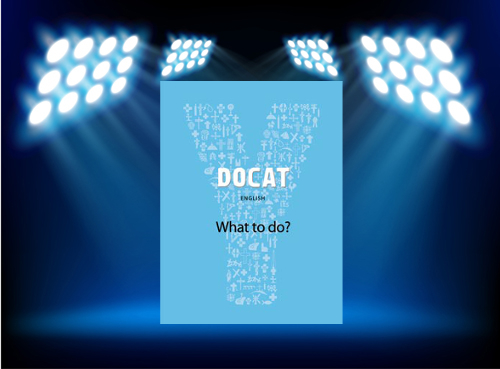 In March of 2011 during the World Youth Day celebration in Madrid, Spain; Pope Benedict XVI gave youth YOUCAT. The title is short for Youth Catechism. Since its release the book has been printed in multiple languages and sold millions of copies.  Pope Benedict XVI in the introduction requested: "I beg you: study this Catechism with passion and perseverance. Make a sacrifice of your time for it! study it in the quiet of your room; read it with a friend; form study groups and networks; share with each other on the Internet. By all means continue to talk with each other about your faith." Now five years later Ignatius Press has released a follow up to that wildly popular work entitled DOCAT and it's just as good as the first.
Pope Francis took the opportunity in Krakow, Poland at World Youth Day 2016 to present this volume. "Dear Young People! My predecessor, Pope Benedict XVI, put into your hands a Youth Catechism, YOUCAT. Today I would like to commend to you another book, DOCAT, which contains the social doctrine of the Church." He continues: "Dear young friends! Only conversion of heart can make our world, which is full of terror and violence more humane. And that means patience, justice, prudence, dialogue, integrity, solidarity with victims, the needy and the poorest, limitless dedication, love even unto death for the sake of the other. When you understand that quite deeply, then you can change the world as committed Christians."
Therein lies the purpose of this volume, to teach youth the meaning behind the Churches stance on social justice. DOCAT fills that purpose and it does so admirably. Presented in similar layout to the YOUCAT, this volume features sections laid out in question and answer format. Lavishly illustrated this is simply put a fun book to use. The book is divided into twelve chapters as follows to give you an idea of the content. God's master Plan: Love, Together We Are Strong: The Church's Social Mission; Unique and Infinitely Valuable: The Human Person; The Common Good, Personhood, Solidarity, Subsidiarity: The Principles of the Church's Social Teaching; The Foundation of Society: The Family; Occupation and Vocation: Human Work; Welfare and Justice for All: economic Life; Power and Morality: The Political Community; One World, One Humanity: The International Community; Safeguarding Creation: The Environment; Living in Freedom from Violence: Peace; and Personal and Societal Commitment: Love in Action.
As you can see from the structure of the book it takes youth from a basic understanding of social justice to a more in-depth and then offers guidance on how to fulfill the church's teaching on the matter. The book in its entirety consists of 328 questions and answers, side bars loaded with definitions of relevant words and a plethora of quotes spanning the history of notable individuals in the church.
One thing must be said and it is why I believe this book is so powerful. Though targeted at youth everyone one of us can benefit from this volume. It is that relevant, it is that important and it is that significant of a text that I recommend it to anyone reading this review. It is our duty to reach out and pull up those less fortunate than us. It is our duty to show them the significance of their existence. Don't wait until tomorrow to make a difference. Pick up DOCAT and learn how to make that difference in the world around you today.
To get your own copy of DOCAT visit Ignatius Press here.