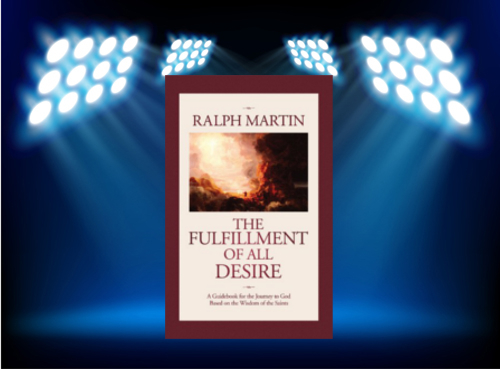 Ten years ago this month Ralph Martin released a book entitled The Fulfillment of All Desire: A Guidebook for the Journey to God Based on the Wisdom of the Saints. The book has become one of the most popular books in the decade since. Catholic bishops, priests, scholars and laity have all spoken highly of it. In fact, the book has become a staple for courses in several universities, seminaries and novitiates. Needless to say this book comes highly recommended.
If you have not had a chance to read this book I'd like to offer a brief overview. In the book Ralph takes seven spiritual giants of the Catholic church and presents their teachings in an approachable and accessible manner that anyone will be able to clearly grasp. He draws from doctors of the church that have provided deep spiritual treasures the church has benefited from for centuries. St. Augustine, St. Francis de Sales, St. Catherine of Siena, St. Bernard of Clairvaux, St. Teresa of Avila, St. John of the Cross and St. Therese of Lisieux are your spiritual guides which Ralph builds his own masterpiece upon.
The book is based upon the commonly cited stages of spiritual growth. They are the purgative way, the illuminative way and the unitive way. Each of these stages receives its own section in this 473-page gem. What we learn as we pass through each section of this book is that we purge ourselves of our sinful ways and purge ourselves of a sinful life. Once we have accomplished this task, God can lead us on the path to holiness. He prepares us for the ultimate union with Him in heaven.
The key to this book is how approachable Ralph makes it. Stepping back and looking at his subject material, he exposes the reader to some very deep subject matter as delivered by some of the greatest saints of all time. They are not called Doctor's for nothing! What readers are left with is a well-researched guide to the spiritual life that spurns serious thought on where one is in their spiritual journey. As this thought process is begun the reader is slowly but deliberately led upon a path that will enhance, fortify and advance one's spiritual life.
The Fulfillment of All Desire has been a spiritual classic…and rightly so. Ten years later the book still holds great significance to those who had read it. This book is a lifelong companion for the spiritual journey each of us finds ourselves on. Long after reading the last page you will find yourself returning again and again to rediscover the nuggets of wisdom buried within its pages. Ralph Martin has accomplished a feat that few have. He has crafted a book that has led many people to a deeper spiritual union with their God. And that is the surefire mark of a spiritual classic indeed.
______________________________________________________________________________________________
Get your own copy of The Fulfillment of All Desire by visiting Emmaus Road Publishing.