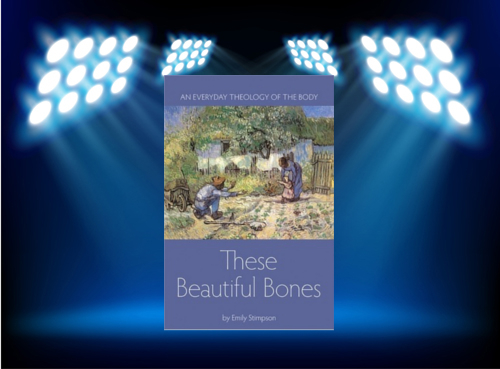 Review by Michele Craig
Having fallen in love with Saint Pope John Paul II, I hang on his every word! But, being a mere mortal-sometimes I do not know exactly what he is saying (but I know it is good!), so rather than struggling through his Theology of the Body (which is on my book shelf), I have read every other possible writer's Theology of the Body to ease my understanding. So, I consider myself a bit of an expert on the subject of books, DVDs, classes and lectures given about the subject.
I would like to declare here and today that Emily Stimpson's These Beautiful Bones: An Everyday Theology of the Body wins first prize for ease of understanding, understanding above and beyond any other book I have read or DVD series or lecture I have attended. Emily has a complete and total respect and level of integrity for all men and women in her Theology of the Body… that is in her These Beautiful Bones: An Everyday Theology of the Body. Congratulations Emily!
Emily does not just "interpret" Theology of the Body, she has taken it to heart and lives it! And now you can, too! Here is a peek…. "That's what John Paul II was getting at when he wrote: 'In his everyday life, man must draw from the mystery of the redemption of the body the inspiration and strength to overcome the evil that is dormant in him…[W]hat is at stake is the hope of everyday, which in the measure of normal tasks and difficulties of human life helps to overcome "evil with good" (Rom.12:21.(86:7)."
Now Emily explains…"The "normal tasks and difficulties of human life" are what the essays here seek to explore. It leaves the reflecting on the theology of the body and spousal love to those who are already ably doing so, and reflects instead on what the theology of the body looks like outside the bedroom-at mealtimes, in the office, sitting on the porch laughing with friends."
Emily begins the book with two solid chapters beautifully explaining theology of the body in terms of spousal love, and then opens the door to apply that theology to all parts of life. She says "The theology of the body makes it clear that none of us are souls simply inhabiting bodies. Our bodies aren't mere husks. They're not containers, interchangeable, dispensable, disposable. They are us. Accordingly, what we do to and with our bodies affects our souls, for good and for ill."
Emily explains that our bodies have many functions that make the "beauty and complexity of our soul known." "Without our body, we also couldn't love. We couldn't hug our children or kiss our aging parents. We couldn't touch the faces of the dying or gaze with sympathy at a woebegone co-worker. We couldn't bake birthday cakes for our best friends, paint shelters for the homeless, or knit scarves for our nieces and nephews."
"That's the gift of the body. It reveals our soul to the world, enabling us to love and be loved, to create and be touched by creation. And again, as the theology of the body reminds us, it does that not as a tool, but as us." Well said, well lived, Emily!
________________________________________________________________________________________________
Get your own copy of These Beautiful Bones by visiting Emmaus Road Publishing.