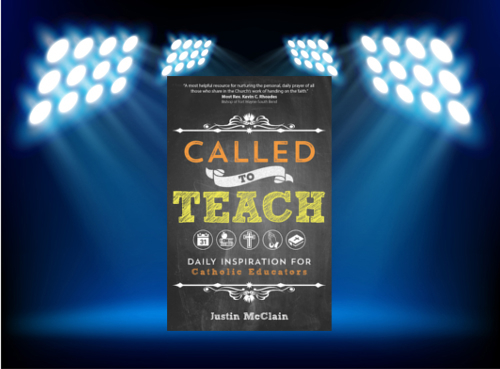 As a teacher, Justin McClain knows what it means to be Called to Teach, and his "Daily Inspirations" truly are inspirational! This book is for all teachers, staff and administrators…and anyone else who works with Catholic children of all ages. It provides short bursts of daily inspiration so that even the busiest teacher has time to take a quick read each day. But the daily messages – reflections on scripture- are deep and long lasting, meant to be pondered as well as incorporated into the classroom throughout the day.
According to Justin, "The reflections themselves comprise opportunities to meditate profoundly on the vocation of teaching in a Catholic school. The reflections are not just for theology teachers, nor are they only for those of the Catholic faith. In fact, they may even be better received by those who are not theology teachers, since teachers in other fields and with other faith backgrounds sometimes wonder how they can contribute to the Catholic mission of the school even when the curriculum does not necessarily accommodate direct instruction on matters relating to faith. In essence, these reflections are for the Catholic school teacher who may be wondering: How can I invite the Lord into my classroom and into my teaching philosophy and framework?"
 Justin gives a brief message on the scripture passage and then adds a bit of a "pep talk" to build up teachers who will then in turn build up each other and their students. One "Daily Inspiration" that I found particularly wonderful was for January 2nd. [Jesus] said in reply, "He who sows good seed is the Son of Man, the field is the world, the good seed the children of the kingdom." -Matthew 13:37-38a….
To which Justin adds "The Catholic school teacher is constantly "planting seeds." However, we must recall that Jesus himself is the actual "sower," and we merely cooperate with him, through the power of the Holy Spirit, as he does his good work in our students. These spiritual seeds will not necessarily sprout while the student is in school. Make sure that you plant mustard seeds (see Mt 1331-32), rather than poison ivy or nettles…"
 Justin also reminds teachers to remember that their "…body is a temple of the Holy Spirit…" [1 Cor 6:19] and to take the time to care not only for their bodies, but for their mind and spirit as well. Justin encourages teachers to find joy in their day- every day- and remember that teachers often teach more by their actions than by their words. A teacher that has joyful interests beyond the school day tends to be the kind of teacher whose joy is contagious!
On February 13th Justin tells us to "Look for ways to dedicate every aspect of your teaching framework to praising the Almighty. From the moment you wake until the moment you sleep, consider how you can make decisions about your day that will bring greater glory to the kingdom of God…." After all, isn't that the real lesson every teacher is teaching?
 This book would be a great gift for anyone in education. It is filled with wisdom and knowledge and written with love and humor… and God's will – first and foremost- in mind.