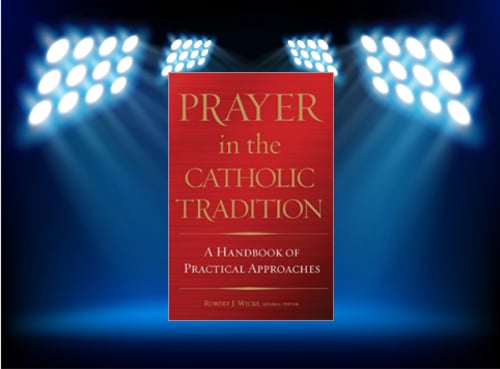 Review by Michele Craig
In his book Prayer in the Catholic Tradition: A Handbook of Practical Approaches
Robert J. Wicks states , "One of the most rewarding experiences for Catholics happens when they begin to discover the amazing scope of the approaches to prayer in the Catholic tradition." I wholeheartedly agree!
Furthermore, Robert asks, "What if there were a single resource that both adult Catholics and those who minister to them (priests, vowed religious, seminarians, permanent deacons, lay pastoral ministers, chaplains, spiritual directors, and others) could have to better learn, practice, and share some of the major approaches used by Catholics through the centuries?"
Robert J. Wicks provides just that very resource! It truly is a valuable tool for any person with "…a desire and willingness to take actions to become more alive and share the joy of life with others." In other words, someone who is ready to accept God's call to prayer and a new life.
Robert explains. "As Catholics, most of us wish to have a little more peace in our lives, experience some joy, be able to understand ourselves better, and, if possible, lead a more meaningful, compassionate life. Surprisingly, even though Jesus has offered us "fullness," often we settle for so much less."
An entire chapter is devoted to prayerfulness, so the reader can fully understand what it means to pray, to be prayerful, and to live prayerfully. "Prayerfulness is not designed to pull us away from life; it allows us to enjoy it fully, recognize and appreciate our own God-given talents rather than put them under a bushel basket, and like the good Samaritan, 'Go and do likewise' by giving freely and not expecting anything in return (ie. not a smile, thanks, following our suggestions, appreciating our efforts…nothing!)"
Robert continues to explain. "Prayerfulness is a way of being. In silence and solitude (which are essential) prayer becomes much more than breaking away from life for a few moments, hours, or days. Instead it is a time to let the dust of the day and our minds settle so we can see more clearly and celebrate the gift of our birth, the opportunity for compassion, and an appreciation of everything without being attached to any of it."
This is not just a reference book to be used occasionally. In a sense, it is a manual for life covering every type of Catholic prayer imaginable. It tackles prayer at its deepest, life-altering levels. "Practicing, not simply knowing about, these elements of prayerfulness allows us to receive from God the gifts meant for us. In addition, we will be able to both face and benefit from our gray and dark times as well as be a gift to those with whom we come into contact. This is theocentric living at its best."
I wholeheartedly recommend this amazing book for anyone interested in opening their heart and expanding their capacity to live in love.