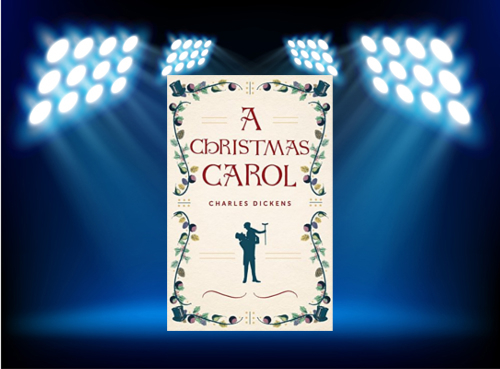 One of the classics of Christmas has to be Charles Dickens' timeless tale A Christmas Carol
. The story of Ebenezer Scrooge's transformation from an ill-tempered man into a kinder and more loving person withstands the test of time. Who can forget the visitations by the ghosts of Christmas past, present and future? The unforgettable characters like Bob Cratchit and his son Tiny Tim have earned a place in Christmas tradition forever.
Paraclete Press has recently released a paperback edition of this time-honored story. There are numerous versions available however this one is special in the fact that it includes the illustrations from the original 1843 edition. This subtle touch brings the volume back to how it was intended to appear to the public when it was first released.
It is hard to believe that Dickens crafted this tale 173 years ago! The book has become for many a tradition to read during this Christmas season and for a good reason. The lessons learned by Mr. Scrooge are lessons we all need to embrace. When you think about it, A Christmas Carol holds some valuable lessons relative to Catholic social teaching. This story which has been told and retold many times in print and on film offers clear insight into human nature, the value of people, the true worth of money, and the purpose of society and one's place within it.
Scrooge's interaction with his fellow man at the beginning of the story is nothing short of repulsive. Verbally abusive with his nephew, his employee, and visitors to his office serves as clear evidence of just how far Scrooge has strayed from respectful regard for his fellow man. However, for as low as Scrooge has sunk it is refreshing to see just how high he can climb by the end of the story. One can only smile while reading of how Scrooge ends up providing for those whom he had chastised just days earlier.
We also get a compelling look into the value of human life with the character Tiny Tim. His loving father holds a special place in his heart for his crippled young son. Seeing the interactions of Tiny Tim with those around him shows the intrinsic value of the weakest among us. Dickens clearly writes Tiny Tim into the story to show that all disabled and weakened individuals are of infinite value no matter what level they contribute to society.
A Christmas Carol holds within its pages many gems. Dickens focuses on timeless truths about human value, a lesson taught by the Church and sometimes ignored by society as a whole. In essence, what Dickens has done is show readers for almost two centuries how society should work. He calls upon each of us to treat our fellow man humanely and to reach out and lift up those in need.
Paraclete Press brings these lessons back to print in an edition that pays homage to the original.  Being able to read the actual unabridged words of Charles Dickens coupled with the original 1843 illustrations was a pure joy. Get yourself a copy of this edition and relive the charm of the original. You will not regret it.