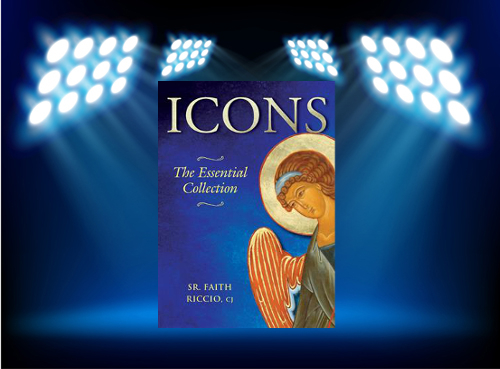 Some of the most beautiful pieces of art are not meant to be art at all. Icons are created by professional iconographers to tell a story without words. They either focus on a person or saint or they portray an event about the faith. They also serve as wonderful sources for prayer. Recently Sister Faith Riccio compiled a book titled Icons: The Essential Collection
. This book is a perfect prayer companion and small enough to carry to a chapel or church setting for Eucharistic adoration.
Sister Faith leads off the introduction to this beautiful and powerful prayer resource with these words. "Icons are an invitation to go beyond our world and to take a moment to look as through a window into heaven." Every other page features a full-color icon image. The paper is a heavier stock making this little book ideal for everyday prayer use.
The subject matter covered in the book is wide-ranging as well. There twenty-eight icons included in the book. There are Church Fathers like Gregory of Nyssa and John Chrysostom. You will encounter familiar saints such as Francis of Assisi and Joseph.  Martyrs Perpetua and Felicity, as well as Stephen, are included. You will also find events such as The Annunciation, The Nativity and The Washing of the Feet.
Accompanying each icon is a meditation which begins with a reading from Scripture. If possible, a writing from the subject of the icon is included as well. Throughout the book, you will find additional writings from various authors and spiritual resources.
Icons serve as a reminder and a draw those who gaze upon them into a deeper longing for the divine. Coupled with meditations, you have a dual-purpose resource to lead you into a deeper meditative prayer life. I would suggest adding this beautiful little gem to your daily prayer arsenal. Allow the icons in this book to unwind you from the busyness of daily life and comfort you from your daily troubles.