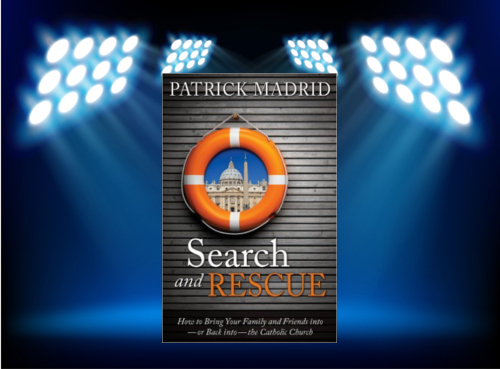 Review by Julie Abell
When I was ready to have my first-born baptized, I slammed headlong into a void; I could not find a close friend or relative that remained a practicing Catholic, except for one of my brothers. He ended up being the only God -parent for all of my children! I have to admit, I had no idea about the extent of the exodus from the Church. Certainly, I have become more aware of it since I was first blind-sided 19 years ago, and my heart literally aches for those I love who have left the Church, so Patrick Madrid's Search and Rescue: How to Bring Your Family and Friends Into or Back Into the Catholic Church
caught my eye.
Mr. Madrid is a prolific Catholic apologetics writer and speaker. I was fortunate enough to hear him speak recently at a church in my area and really enjoyed his presentation style. Years ago I read two of his books, Pope Fiction: Answers to 30 Myths & Misconceptions About the Papacy
and Surprised by Truth, so given all of that, I knew I would not be disappointed when I started reading Search and Rescue. He begins with establishing that the foundation of guiding our estranged brothers and sisters back into the Church is love and ends with a specific reading plan to assist in increasing one's proficiency in apologetics, doctrine, and Scripture.
Each chapter starts with an appropriate quote from a saint. For example, Chapter One quotes St. Philip Neri, "First let a little love find entrance into their hearts and the rest will follow." Chapter Six starts with "If you truly want to help the soul of your neighbor, you should approach God first of all with your heart. Ask Him simply to fill you with charity, the greatest of all virtues; with it you can accomplish what you desire" – St. Vincent Ferrer. These quotes set the stage for the loving guidance the author follows up with.
At the end of each chapter are questions designed to help us search our own souls and then ideas that could be added to our own individual "search and rescue action agendas." These ideas are in the form of a checklist, for those that like organization and to-do lists, which I do. And finally, at the end of the book the author presents a detailed reading plan which will sufficiently prepare each of us before we embark on our own personal search and rescue missions. I know of no Catholic that does not have loads of friends and family that have left the Church. With that in mind, I imagine we are all going to be busy this coming new year girding ourselves with the love-filled, knowledge filled hearts which with Search and Rescue equips us.