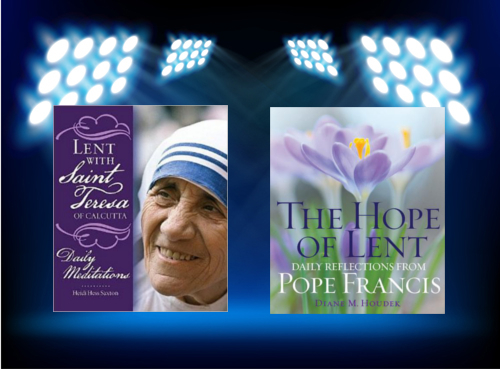 Lent is a time for reflection and growth in our spiritual lives. Every Lent there are some book choices to help us along this forty-day journey. This Lent there are two books in particular that are well suited for your daily reflection use. The first is Lent with Saint Teresa of Calcutta: Daily Meditations by Heidi Hess Saxton who brings readers to a greater understanding of mercy and love. The second, The Hope of Lent: Daily Reflections from Pope Francis by Diane Houdek utilizes teachings of Pope Francis to bring readers a deeper commitment to Gospel living.
Both books can be used year after year as the daily readings remain the same and the Sunday readings vary slightly.
Lent with Saint Teresa of Calcutta: Daily Meditations
Heidi Hess Saxton uses the teachings of Mother Teresa as the backdrop for her book. Saint Teresa of Calcutta has always been one to challenge us to go deeper. Her example leads us to pull back the curtains of our lives and consider how each of us can practice humility and mercy in the Calcutta's of our lives. What a fitting companion to have during a season where deep personal reflection is a focus of our spiritual renewal.
Each daily entry opens with a short scriptural passage based upon the lectionary followed by a brief meditation or quote of this humble nun from Calcutta. Reflection questions and a short prayer round out each daily offering. Appropriate for either starting or ending your day you will find these reflections leaning towards the topic of mercy and service to others as would be expected when focusing on Saint Mother Teresa.
As Heidi puts it, "Our daily offering of work and prayer, the intentional giving of ourselves, delights the One who loves us. Each sacrifice, however great or small, presents an opportunity to die to ourselves so that that love of Christ might shine more brightly through us." Ultimately is that not what we are here for. TO be light in a dark and broken world. St. Teresa knew that message, she practiced that message, she lived that message. Journey through Lent with her, and you will instill that message in your life as well.
The Hope of Lent: Daily Reflections from Pope Francis
"We might think that the hope of Lent has to do with our hope that we will get through it, that we will come to the end of it. We see Lent as an obstacle course we need to navigate to get to the feast of Easter." These are the opening words of author Diane Houdek in her new book The Hope of Lent. These words resonated with me. What is Lent to each of us? Do we take advantage of this season or do we spend our time counting the Fridays until we can have thick, juicy burger on Friday again?
Diane has penned a book that uses the message of Pope Francis to guide through these forty days in a manner that fulfills what he has taught us since the first days of his pontificate. His message has been one of mercy and love for our fellow man. He has said the way to do this is to live out the Gospel message. We need to embrace this message found in Scripture, embrace it and make it part of our daily lives.
The Hope Lent allows us to do just that. As you work your way through the 40 days of Lent, it almost feels as if you are being guided personally by Pope Francis. In a sense, you are. Diane has built her daily reflections around various General Audiences and morning chapel meditations given by Pope Francis. Each day begins with scripture readings followed by Words from Francis. Upon reading the thought of Pope Francis there are two reflection sections called "Taking the Word to Heart" and "Bringing the Word to Life." The day is rounded out by a prayer of Pope Francis. Unpacking Scripture to lead us to a more God-centered lifestyle is something we could all use and it is something this book does well.