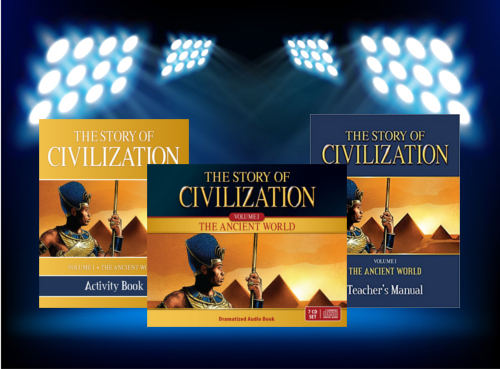 Review by Laura Socks
Last year TAN Homeschool released the first volume of its new history series called The Story of Civilization.  My family just finished up Volume 1 The Ancient World after using it last school year.  As a homeschooling mom of 13 years, I've always found that the best way to know whether a book is good is to actually use it!  Well after using it for this past school year, I have to say that this book is not only good but great!  TAN recognized the need for a Catholic history series that uses the one-room schoolhouse model that enables a parent to teach many students of different grades all at the same time.  With the wide range of materials that is available in this series, a parent has a collection of many resources to suit each of their children's ages and needs.  To view the many companion components of the series visit TAN Homeschool's website:  www.tanhomeschool.com
Having personally used the book, I will give a brief overview of how we used The Story of Civilization Volume I The Ancient World.  I used it with three of my children: 8th, 4th, and 1stgrades.  My 8th grader read the text herself, watched the lecture online, and then took the test from the Test Book for each chapter.  (This was her 2rd time studying ancient history)   With my remaining two students, I read the text to them.  They both enjoyed coloring the coloring page from the Activity Book during the chapter reading, and I'd stop during the reading to help explain anything they were struggling with.  The maps from the Activity Book were helpful to have during the readings, although a few times I had to pull out a different map from the internet to help clarify something.  (Many of the maps are the same from one chapter to another.)
The day following the reading we reviewed what we previously reading.  The Teacher's Manual was helpful with this because it contains Questions for Review and Narration Exercises to help bring out the main points of the chapter.  My 4th grader with my help would also write two or three sentences on her coloring sheet explaining what the picture is about.  By the end of the year, she had a nice collection of coloring pages to assemble into a book and would tell anyone who would listen the story behind each of the pictures!   Both the 1st and 4th grader would complete the Map Activity from the Activity Book.  The Teacher's Manual contained directions for this activity.  The Teacher's Manual also contained Craft Projects for each chapter, however we did very few of these.  In comparison, the Drawing Projects and Mazes were a hit with my kids.  We personally never used the audio CD reading of the text, although a friend of mine loved it for her kids as they listened to it while traveling.
We also read TAN's book The Story of the Bible: Volume I The Old Testament along with The Ancient World.  Many Bible stories were already mentioned in the history text, however with The Story of the Bible we were able to delve much deeper into the stories.  The younger kids were able to place the Bible stories into the timeline of history we were studying which is something they were never able to do before.  Just like the The Story of Civilization series, The Story of the Bible has many resources to reinforce learning.
My kids learned a lot using these books and the many resources that can be purchased with it.  The text from The Ancient World is like reading a continuing story that keeps the kids asking for more.  That was TAN's intent and the author Philip Campbell did a wonderful job writing history in a thrilling and captivating way.  My younger kids loved the little narrative stories contained in many of the chapters giving them a chance to see it from the lives of those who lived it.  All the different components enabled me to easily find something for each of my kids' current learning levels.  When I use The Story of Civilization: Volume I The Ancient World again with them in four years, they will be able to utilize the parts of it we didn't use this time.  TAN has given Catholic homeschoolers a trusted resource that they can use for their students over and over again to give them the much needed foundation in the history of civilization.