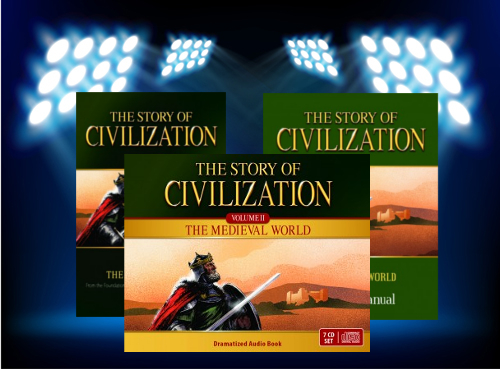 Review by Laura Socks
The subsequent volumes of TAN's The Story of Civilization by Phillip Campbell will be released over the next three years.  The story continues with the release this summer of The Story of Civilization: VOLUME II – The Medieval World
.  Students will read all about the times after Constantine to the early days of the Renaissance.  They will read of castles and knights, saints and monks, literature and architecture all from a trusted Catholic source.
Anti-Catholic historical narratives are all around us.  Our children cannot be ignorant of their Christian faith nor of the history of it.  A child without proper training will be lost when confronted with false stories and misinformation about the history of his church. The Story of Civilization has equipped parents and educators with the task of laying a Christian historical foundation for their children.  The Middle Ages was one such time period in history where many children only hear of the ignorance and barbarism of the age.  This book will show the many parts of this creative period including the arts, theology, monasteries, universities, religious life, law, papacy, guilds, and more.
I look forward to continuing this historical journey with my children using this wonderful series and its many resources.  As I said in my previous review of this series, Phillip Campbell does a wonderful job writing history in a thrilling and captivating way.  The book is like reading a continuing story that keeps the kids asking for more.  With the wide range of materials that is available in this series, a parent has a collection of many resources to suit each of their children's ages and needs.  To view the many companion components of this series visit TAN Homeschool's website:  www.tanhomeschool.com  Also, see my review about Volume I The Ancient World here.