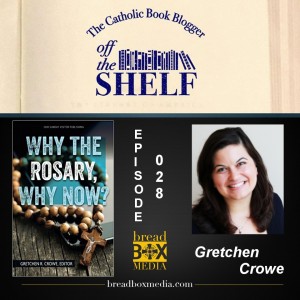 Gretchen Crowe is the editor-in-chief of Our Sunday Visitor Newsweekly, where she oversees the publication of the only national Catholic weekly newspaper in the United States. In addition to planning and editing the print edition, she also oversees the content of OSVNews.com and Our Sunday Visitor's social media content. Gretchen also is an award-winning writer and photographer.
On this episode Gretchen and I discuss one of the most commonly known devotions among Catholics, the Rosary. Gretchen's new book Why the Rosary, Why Now?
Is the rosary even relevant today? We take a look at why the rosary is such an important and integral part of our spiritual journey. Gretchen gives us 8 reasons why we should pick up our rosaries and get to praying NOW. Tune in to have a listen about why the rosary truly does matter on this day and age.
Listen to this episode here.