I absolutely LOVE the Star Wars films. If you are a fan of the series, you likely know that creator George Lucas has built his galaxy from a long time ago, far, far away on some of the main religions in our culture. Were you aware that Catholicism played a major role in Episode VII: The Force Awakens? In the final scenes when Rey is ascending the steps of this obviously ancient terrain to meet Luke Skywalker for the first time, she is walking on hallowed ground. Philip Kosloski explains the history of this location in his book The Last Monks of Skellig Michael
.
Skelling Michael is a rocky island located in the north Atlantic off the coast of Ireland. It was to serve as a sort of secluded monastery for monks. These monks chose to live a life similar to those of the Desert Fathers. They practiced what they referred to as a "green martyrdom". The concept of green martyrdom set forth that by means of fasting and labor, one frees himself from his evil desires or suffers toil in penance and repentance.
Philip recreates specifics about their daily lives in this quick but informative read. Work and prayer took the foremost place for these monks who occupied the island some 600 years ago. Essentially, as any with any community of monks, this band of Irish monks had as their primary duty the role of spiritual warriors (starting to see a connection to George Lucas' Star Wars Jedi yet?). They labored daily on the rocky island but the central focus of their day was always the celebration of the most holy sacrifice of the Mass and the True Presence of Jesus.
There is not a whole lot documented on this band of monks. However, Philip has managed to cull enough information from history to compile and rather complete and informative read. Diagrams and illustrations make clarify their lifestyle, and the many corroborating quotes from sources, such as the Popes, early Church Fathers and Christ Himself, add to the authenticity of this book's claims.
The highlight and most interesting twist to the book are the tie-ins to the Star Wars mythos. Philip takes a deep look into the Jedi Knights and parallels them to the monks of Skellig Michael. He also looks at various other facets of the Star Wars films and points out subtle and hidden hat tips to Catholicism.
And there is even MORE good news. Philip is in the process of creating a comic series based upon the lives of the monks of Skellig Michael. To help this project see the light of day you visit the Kickstarter page for it. For now here's a little something to wet your appetite.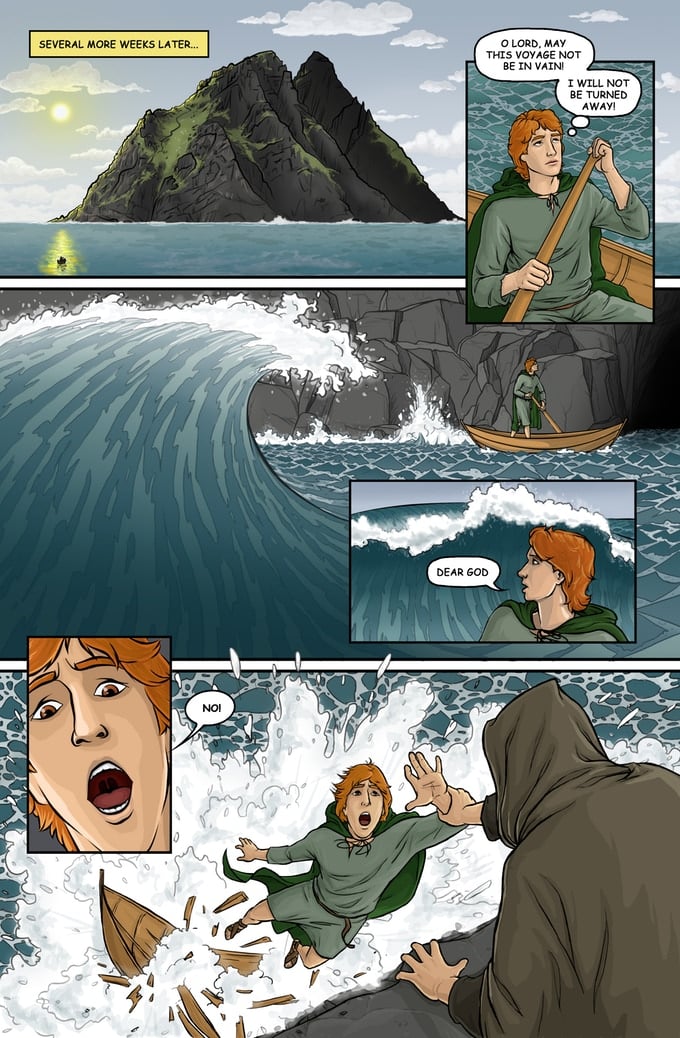 If you are a fan of Star Wars, you are going to absolutely LOVE this book. I would also encourage you to support Philip's efforts by helping make this comic series a reality.