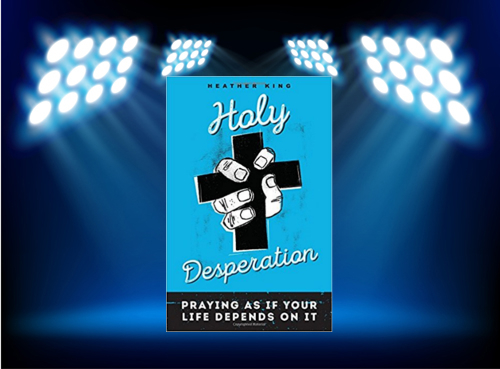 Let's face a harsh reality of life. We all have challenges. Every one of us faces hurdles in life. We may face desperation when facing these issues head on. Desperation has many faces. It could be the drunk or drug addict who has hit rock-bottom. It may be the person out of work or under-employed who cannot make ends meet for their family.  Or it could be those hidden secrets in our closets we hope no one discovers. Heather King has been there and tackled her desperation head on. In her book Holy Desperation: Praying As If Your Life Depends On It, Heather lays out the steps we can all apply to our challenges no matter how big or small they are.
To understand the approach Heather has, you need to understand her own journey. Heather refers to herself as "an ex-barfly Catholic convert and I'm proud. I write, speak, give retreats, edit, and clean bathrooms." A recovered alcoholic, Heather hit rock bottom and she hit it hard. She admits and marvels at the fact that even while maintaining successful career, barely, she was so dependent on alcohol that she could hardly function in life. She was desperate and she reached out the only way she knew how. She got down on her knees and prayed the Lord's Prayer. This was followed by a stint in rehab and the rest is history.
You see, Heather's story holds the key to how we handle those moments of desperation in our lives. The simple solution is prayer. We need to check our pride at the door and turn ourselves to the loving God who is always standing there waiting for us with open arms. HE is the consoler, healer, and guidance counselor we need. We must only ask and we shall receive.
Heather points out that no matter how screwed up we are, or rather how screwed up we THINK we are, God loves each of us. We are not un-lovable, if anything we are too prideful to accept this fact. Prayer is the answer to get us over this hump and put us on the road to recovery.
Heather covers prayer in its various forms and points out, "So if we want to be friends with God, we develop a prayer life. We spend some time with him." She continues "Prayer is like writing. We either do it or we don't. Talking about it, reading books about it, talking to other people who do it isn't writing – and it isn't prayer." The four volume Divine Officeand its shorter format one volume Christian Prayer play a key role in Heather's own prayer life as they do with many. She covers Lectio Divina, the fancy word for reading and reflecting on the Gospels that allows us to enter into a deeper understanding of the Word. Both of these are good resources but simply sitting quietly in one-on-one conversation with God is prayer in its simplest form. All are wonderful ways to bolster your prayer life and enter into a deep relationship with God.
Holy Desperation is book that opens doors to our spiritual lives. Heather does so with a style that isn't in your face but rather more like that of a friend who has "been there done that" and wants to guide you back on the path. You are not beyond the reach of God regardless of where you are on the journey. Prayer can lead us to a life that is beyond ourselves and leads us to a life of dedication to others and our Creator. Leave your old desperation's behind, take God by the hand and step out into a life of purpose. Heather King has been there, let her help guide you out of holy desperation.
For more on this book listen to our interview on Off the Shelf episode 034.