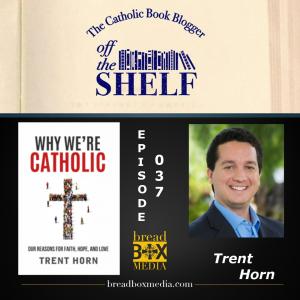 Trent Horn is an apologist and speaker for Catholic Answers, an apostolate that is dedicated to explaining and defending the Catholic faith. He specializes in teaching Catholics how to graciously defend their faith with sound arguments and persuasive communication techniques.
Trent earned a graduate degree in theology from Franciscan University of Steubenville and is currently pursuing a graduate degree in philosophy from Holy Apostles College.
He is a regular guest on the radio program Catholic Answers Live, a lecturer who speaks across the country on issues related to the Catholic faith, and the author of dozens of articles, booklets, and books about apologetics. He currently lives with his wife and son in San Diego.
On this episode of Off the Shelf, Trent and I discuss a fundamental question….why are we  Catholic? Exactly what does the Catholic Church have that other's do not? His latest book Why We're Catholic: Our Reasons for Faith, Hope, and Love
is a fantastic go-to-book on the Catholic faith.  Trent and I take a 10,000 foot view of what is in this book, one that I believe is a perfect must-read for anyone responsible for teaching the Catholic faith.
Off the Shelf 037 with Trent Horn is available exclusively on Breadbox Media.