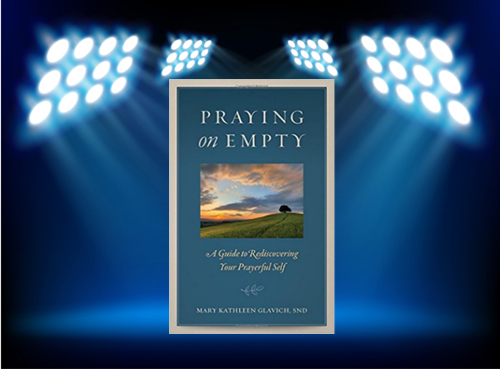 Prayer is a fundamental part of every good spiritual routine. Are you finding that your prayer time is slacking off a bit? The daily pressures of life overtaking what once used to be a highlight of your day? Or perhaps you never had a prayer life to speak of and are at a point where you have decided to establish a normal prayer routine in your life. Sister Mary Kathleen Glavich has the answers you need in your book Praying on Empty: A Guide to Rediscovering Your Prayerful Self.
The book itself is geared to those that have become fallen away pray-ers. In saying this I feel the book applies to anyone….it's that good. Here is why. Everyone at some point in their spiritual journey will hit a time of dryness. I experienced this myself before starting my apostolate here at The Catholic Book Blogger. Sister explains it this way:
"Dryness in prayer might actually be a grace in disguise, and eventually you might find a home in the desert. In fact, you are in good company. Very holy people have suffered through dry stretches in the extreme."
That excerpt from the introduction hooked me as well it should you. These brief sentences hold a number of intriguing thoughts. Dryness in prayer is a grace? Really? These were my initial thoughts, but after reading the entire book, it becomes glaringly obvious why. Sure, when we are there in that dry period we struggle for answers. Why are we here? Where are you God, I need you!  As we mature in our spiritual lives, we come to the realization that dark days are an opportunity for good. We can unite our suffering with Christ's suffering as a sacrifice to God.
Therein lies the power of emptiness. Therein lies the fruit discovered in the desert.  Is why we should embrace these moments of dryness and turn them into moments of divine good. Sister Mary Kathleen Glavich has done readers a great service in her book Praying in Empty. She takes readers by the hand and shows them how to lead a disciplined prayer life even when they feel as if God is not listening. Each chapter provides reflection sections with questions to ponder and evaluate your prayer life. Additionally, this book is chock full of prayers sprinkled throughout to help ignite your prayer life once more.
Our prayer lives are important. Much like the flowers in spring or the seeds we plant in a garden, our prayer life needs to be tended to in order see it properly grown, blossom and produce. When the well is dry, we need to bring in some reserve water to save our plants. Praying on Empty is the reserve water supply your prayer life desperately needs.
To learn more about the book listen to Off the Shelf 038 with Sister Kathleen Glavich.