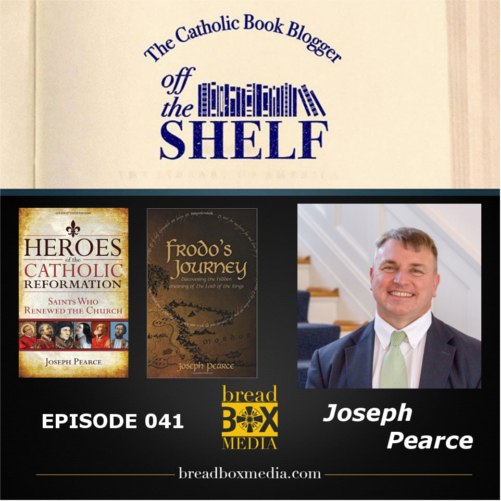 Joseph Pearce is a Senior Contributor of The Imaginative Conservative. He is Senior Editor at the Augustine Institute, and Tolkien & Lewis Chair in Literary Studies at Holy Apostles College & Seminary. He is editor of the St. Austin Review, series editor of the Ignatius Critical Editions, and executive director of Catholic Courses. His books include The Quest for Shakespeare, Tolkien: Man and Myth, C. S. Lewis and The Catholic Church, Wisdom and Innocence: A Life of G.K. Chesterton, and Old Thunder: A Life of Hilaire Belloc.
On this episode of Off the Shelf we discuss two other titles. The recently released Heroes of the Catholic Reformation: Saints Who Renewed the Church
from Our Sunday Visitor and Frodo's Journey: Discover the Hidden Meaning of The Lord of the Rings
. Many people lump the Reformation under one umbrella but as Joseph points out in Heroes of the Reformation there are actually three distinct categories to the Reformation. After we unravel this period of history Joseph and I turn our attention to J.R.R Tolkien and the hidden undercurrent of Catholicism that weaves throughout the Lord of the Rings.
Listen to Off the Shelf Episode 041 exclusively on Breadbox Media below.
If you are fan of the show why not become  a premium member? You can be a part of our mission to bring quality content to Catholic's looking for something more than conventional Catholic media. Premium members receive exclusive discounts, deals and offers, up to 75% off select advertisers  including Rugged Rosaries, Sophia Institute Press, the Harrisburg Senators, Catholic Books Direct and Life Boat Coffee (with more being added every month).
Become a premium member today by visiting the link on my page and I'll send you a Catholic Book Blogger Off the Shelf coffee mug as a thank you for your support of my work and Breadbox Media!