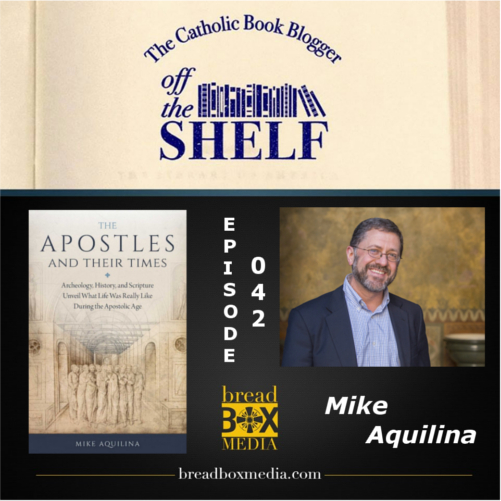 Mike Aquilina is the award-winning author of more than fifty books on Catholic history, doctrine, and devotion. His works have been translated into many languages. He has hosted nine television series and several documentary films and is a frequent guest on Catholic radio.
On this episode Mike and I chat about his recent book The Apostles and Their Times: Archaeology, History, and Scripture Unveil What Life Was Really Like During the Apostolic Age
. This book provides an incredible insight into exactly what the Apostles and the early church faced after the Resurrection and Ascension of Jesus Christ. Life wasn't peaches and cream for the fledgling church in the Roman Empire. Join us as we discuss what it took for these ordinary men to do extraordinary things.
Listen to Off the Shelf Episode 042 exclusively on Breadbox Media below.
If you are fan of the show why not become  a premium member? You can be a part of our mission to bring quality content to Catholic's looking for something more than conventional Catholic media. Premium members receive exclusive discounts, deals and offers, up to 75% off select advertisers  including Rugged Rosaries, Sophia Institute Press, the Harrisburg Senators, Catholic Books Direct and Life Boat Coffee (with more being added every month).
Become a premium member today by visiting the link on my page and I'll send you a Catholic Book Blogger Off the Shelf coffee mug as a thank you for your support of my work and Breadbox Media!