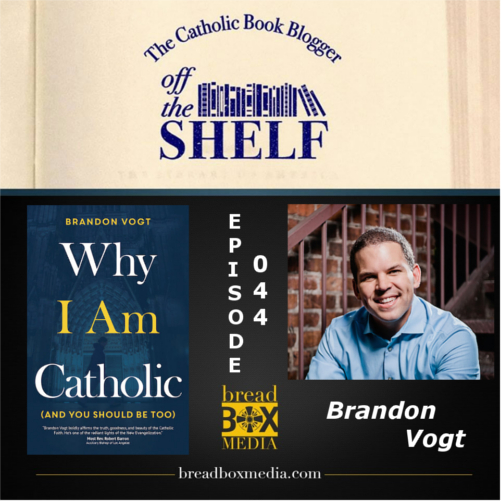 Brandon Vogt is a bestselling and award-winning author, blogger, and speaker who serves as content director for Bishop Robert Barron's Word on Fire Catholic Ministries.
Vogt was one of the millennial "nones" when it came to religion until, as a mechanical engineering student at Florida State University, he began a passionate search for truth. That search led him unexpectedly to the Catholic Church in 2008. In 2013, he started StrangeNotions.com, the largest site of dialogue between Catholics and atheists.
On this episode Brandon and I explore his book Why I Am Catholic (and You Should Be Too)
. The book takes a look into the reasons Brandon found himself converting to Catholicism in 2008. Chock full of rock solid reasons why the Catholic faith is THE faith passed down from Christ to the Apostles, this is a book you will want to dive into.  Tune in and learn why Catholicism is where it's at!
Listen to Off the Shelf Episode 044 exclusively on Breadbox Media below.
If you are fan of the show why not become  a premium member? You can be a part of our mission to bring quality content to Catholic's looking for something more than conventional Catholic media. Premium members receive exclusive discounts, deals and offers, up to 75% off select advertisers  including Rugged Rosaries, Sophia Institute Press, the Harrisburg Senators, Catholic Books Direct and Life Boat Coffee (with more being added every month).
Become a premium member today by visiting the link on my page and I'll send you a Catholic Book Blogger Off the Shelf coffee mug as a thank you for your support of my work and Breadbox Media!