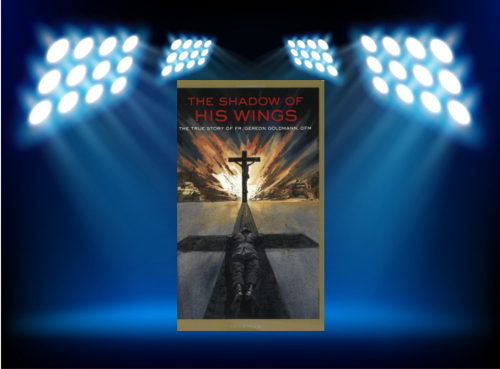 Review by Julie Abell
When I was a teenager in high school, I could not stand history. Like most people I wondered why we had to study something that was in the past and we could do nothing about and besides the textbooks made history so boring I could cry. Now that I am significantly older and I have a better understanding of the passage of time and the human condition, I love learning about history.  I still stay far away from textbooks though even as I home educate my children because history is fascinating when told in a very personal way. The Shadow of His Wings: The True Story of Fr. Gereon Goldmann, OFM
is such a book. It is an "amazing true life story about World War II, Love, Prayer, Faith, Sacrifice, and how nothing is impossible for God"… Fr. Goldmann was a Nazi.
I have never read an account of the WWII from a Nazi.  And I never heard of a Nazi becoming a Priest. That would just seem to me to be an impossibility! But thank God for Lighthouse Catholic Media putting up those kiosks in the church vestibules, because that is where I picked up this book. (The cover art made me do it!)  Fr. Goldmann's story drives home the point that nothing is impossible for God.
Fr. Goldmann starts his journey to priesthood in his youth, but as he grew up Germany was changing, for the worse. Not quite through seminary the orders came for him to report for induction into the army. He was commanded to become a soldier – no choice. His story takes you through the entire war and the role he played and how he was able to minister to fellow Catholics. It takes you through his audience with the Pope and finally his time in a prison camp. All along prayers were being said for him by many, many devout Sisters. Fr. Goldmann's whole amazing story reveals that "The words of Scripture had been fulfilled, that whoever prays to the Father in the name of the Son will be heard."
I read this book within 24 hours and then handed it to my history-buff husband.  It is an astounding raw account of the power of prayer and the omnipotence of God.  I guarantee you will be changed when you read this story. Enjoy!