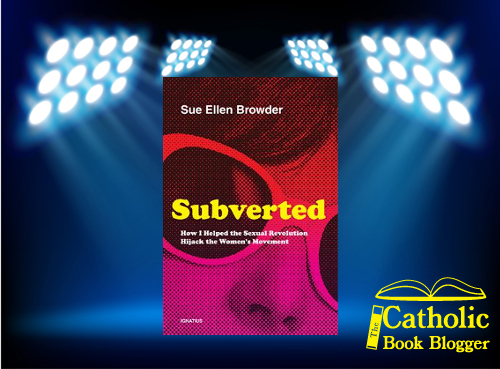 Review by Julie Abel
I recently attended the Maryland Catholic Women's Conference at Mount St. Mary's University in Emmitsburg, MD.  One of the two main speakers, Sr. Helena Burns, told her story of how she went from being a radical feminist to being a religious.  Her story was fascinating and I know a radical feminist or two, so I stopped at her book table during the lunch break and asked her what could I suggest my radical feminist friend read that might help her look at things differently.  Sister Helena said that Subverted by Sue Ellen Browder was the book to start with.  So I bought it and grabbed a few other books as well, since I LOVE to read!
When I got home I looked at my pile and reluctantly opened up Subverted.  Now, I have to tell you why I did so reluctantly.  It really pains me to read about women (and I include myself here) who "drank the Kool-Aid" of the culture even if she did do a complete 180, which Sue Ellen Browder did, thus the book.  But, Sister Helena highly recommended it so I began to read.
I read it in almost one sitting and it is not that I am fast; it is just that the book is that riveting.  Sue Ellen Browder used to write for Cosmo magazine.  She has written many books, but it is essential to point out that she wrote for Cosmo because as she says on the book's cover she "helped the sexual revolution hijack the women's movement."  Sue Ellen Browder is not that person anymore and in her book she handily gets the reader from Point A, a radical feminist, to Point B, her entry into the Catholic Church.
I usually do quite a bit of underlining in books, but for this book I resisted since I wanted to pass it on. However, I found a wonderful summary of her life (and my life as well) in the last chapter: "All my efforts to direct and control my own life have come to nothing.  For every good thing is His.  Only the God who is Love can give us the wholeness and fullness of being we seek.  Only God can fill the human heart with Joy.  With Saint Augustine, I cry, "O, how late I have loved You!"  Enjoy!