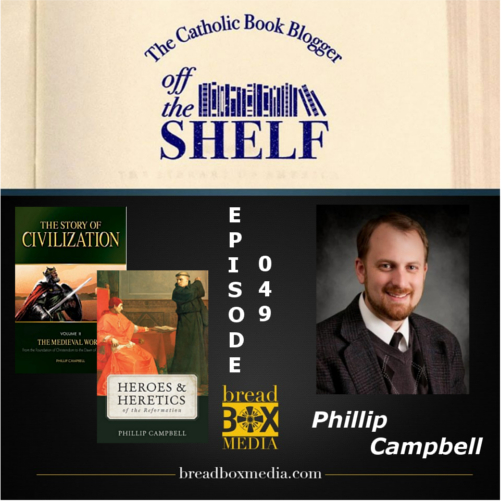 Phillip Campbell holds a BA in European History from Ave Maria University and a certificate in Secondary Education through Madonna University. He taught history and Scripture for the St. Augustine Homeschool Enrichment Program for ten years. Mr. Campbell is the author of the popular " Story of Civilization" series by TAN Books. He recently joined the Catholic History Textbook Project. Mr. Campbell's writings have appeared in the St. Austin Review and The Distributist Review. He is also the star of the YouTube sensation History in a Minute. Mr. Campbell served as the Mayor of Howell, MI from 2011 to 2015 and has been involved in homeschooling for more than 15 years. Campbell is currently an instructor with Homeschool Connections where he teaches an online course about the ins and outs of the Protestant Reformation, or as he likes to call it, the Protestant Revolt. To learn more, visit www.rendingofchristendom.info/.
To lead this episode off, Philip and I discuss his latest book Heroes and Heretics from Tan Books. In this book Phillip takes a look at some well-known and lesser know characters of the Reformation. On the second half of the show we talk about The Story of Civilization, the AWESOME homeschool study series written by Phillip and from Tan Books as well. A complete resource for teaching history this series is currently at Volume 2 with an overarching plan of a 4 volume series. It includes book, audio and video resources for teaching world history from a Catholic perspective.
Listen to Off the Shelf Episode 049 exclusively on Breadbox Media below.
If you are fan of the show why not become  a premium member? You can be a part of our mission to bring quality content to Catholic's looking for something more than conventional Catholic media. Premium members receive exclusive discounts, deals and offers, up to 75% off select advertisers  including Rugged Rosaries, Sophia Institute Press, the Harrisburg Senators, Catholic Books Direct and Life Boat Coffee (with more being added every month).
Become a premium member today by visiting the link on my page and I'll send you a Catholic Book Blogger Off the Shelf coffee mug as a thank you for your support of my work and Breadbox Media!