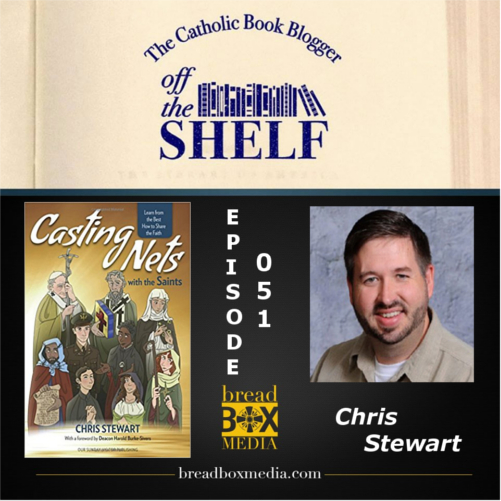 Chris Stewart is a loving husband, father, and dynamic speaker who has engaged youth and adults with captivating talks for 20 years. His experience in youth ministry and public speaking began in 1996 when he first taught for Totus Tuus, a summer youth catechetical program. He discovered his gift of speaking and has continued throughout the years giving countless talks in the areas of catechetics, theology, spirituality and evangelization. Chris earned his Masters of Theological Studies from the Institute of Pastoral Theology of Ave Maria University. His experience is widespread and includes teaching in elementary, high school, and college settings; youth ministry; and co-hosted a radio show "Casting Nets with Tony & Chris". All of this has grown into the apostolate which Chris co-founded called Casting Nets.
On this episode we take a look at Chris' book from Our Sunday Visitor entitled Casting Nets with the Saints: Learn from the Best How to Share the Faith
, an incredible book on evangelization and how to do it. This is not just some dry field manual for operations. Chris has identified what he calls Seven Pillars of Evangelization and takes a deep dive look at a saint for each pillar. These saints serve as guides on our journey of evangelization, each strong in their own merits and combined, they give us an effective toolbox for bringing people back to God.
Listen to Off the Shelf Episode 051 exclusively on Breadbox Media below.
If you are fan of the show why not become  a premium member? You can be a part of our mission to bring quality content to Catholic's looking for something more than conventional Catholic media. Premium members receive exclusive discounts, deals and offers, up to 75% off select advertisers  including Rugged Rosaries, Sophia Institute Press, the Harrisburg Senators, Catholic Books Direct and Life Boat Coffee (with more being added every month).
Become a premium member today by visiting the link on my page and I'll send you a Catholic Book Blogger Off the Shelf coffee mug as a thank you for your support of my work and Breadbox Media!