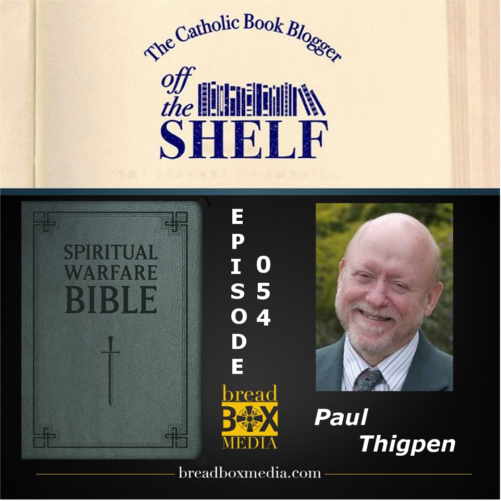 Paul Thigpen, Ph.D., is the editor of TAN Books and the best-selling author, co-author or compiler of forty-one titles. Among his most popular books are The Burden: A Warning of Things to Come and The Rapture Trap: A Catholic Response to End Times Fever. A convert to the Catholic faith, Paul has served the Church as an award-winning journalist, historian, apologist, catechist, and member of the National Advisory Council of the United States Conference of Catholic Bishops. His work has been circulated worldwide and translated into twelve languages.
On this episode of Off the Shelf Paul and I discuss spiritual warfare. What is this battle we are engaged in? What can we do to be active participants? How do we resist the trickery of the enemy? Learn this and more as we discuss the Spiritual Warfare Bible which Paul wrote inserts for and his related book The Manual for Spiritual Warfare.
Listen to Off the Shelf Episode 054 exclusively on Breadbox Media below.If you are fan of the show why not become  a premium member? You can be a part of our mission to bring quality content to Catholic's looking for something more than conventional Catholic media. Premium members receive exclusive discounts, deals and offers, up to 75% off select advertisers  including Rugged Rosaries, Sophia Institute Press, the Harrisburg Senators, Catholic Books Direct.
Become a premium member today by visiting the link on my page and I'll send you a Catholic Book Blogger Off the Shelf coffee mug as a thank you for your support of my work and Breadbox Media!



Click below to see my Off the Shelf show archives.