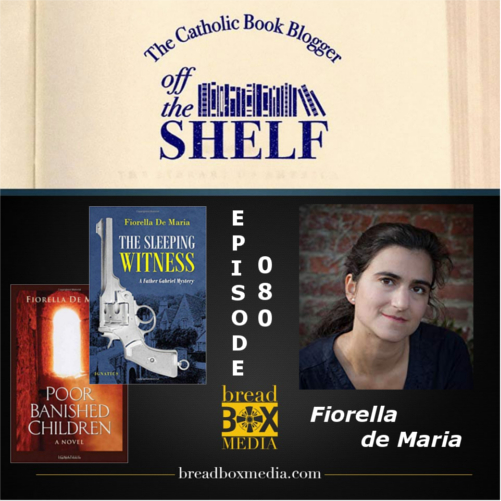 There is a niche in the Catholic publishing world that has steadily gained a foothold in the years since I began reviewing books. That niche is Catholic fiction. What makes good Catholic fiction? A great story and gentle nudges towards Church teachings without being heavy handed. Fiorella de Maria has perfected the method and this week we talk about Catholic fiction, why it matters, and how it has grown. We do this while taking a look at a number of her books including Poor Banished Children
, Do No Harm
, The Vanishing Woman: A Father Gabriel Mystery
, and a second Father Gabriel mystery The Sleeping Witness
.
Listen to Off the Shelf Episode 080 exclusively on Breadbox Media below.
Bio
Fiorella de Maria was born in Italy of Maltese parents. She grew up in Wiltshire, England, and attended Cambridge, where she received a BA in English Literature and a Masters in Renaissance Literature, specializing in the English verse of Robert Southwell, S.J. She lives in Surrey with her husband and four children. A winner of the National Book Prize of Malta, she has published several novels with Ignatius Press.
---
To get your own copy of this book, click below. As an Amazon Associate, I earn from qualifying purchases.